bplist00—_WebMainResource' _WebResourceMIMEType_WebResourceTextEncodingName^WebResourceURL_WebResourceFrameName_WebResourceDataYtext/htmlUUTF-8_hfile:///Users/donmurchison/Desktop/ART%20&%20DESIGN_Desktop/ENG_2019/To%20Put_Aug.2019/DonMurchison.htmlPOPŕ
At last, the moment some of you have been patiently waiting for:
A Pictorial Profile with Significant Events in the life of the
Creative Director, Artist, Entertainer & Writer
DON MURCHISON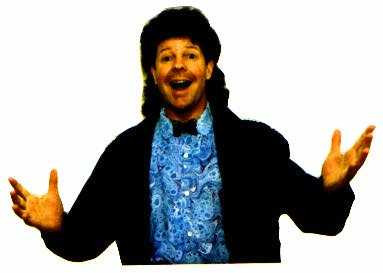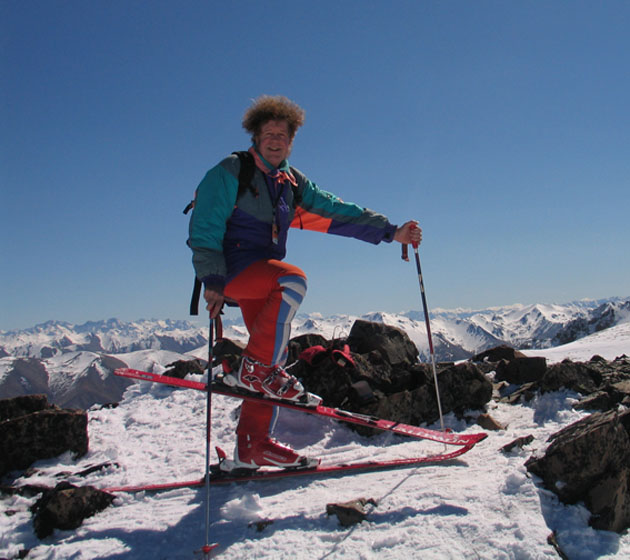 VITAL STATISTICS & FACTS:
* Born into this wonderful World in Christchurch, New Zealand. Based in Auckland during early touring. Toured extensively in NZ & Australia. Now resident of Sydney, NSW, Australia.
* Creative, innovative...
* Innate sense of humour...
* Energetic, motivated, charismatic√Čbut prefers not to blow his own trumpet!
* Passionate about life, romantic, sensual...
* Friendly, easygoing.
* Deep, meaningful & dedicated.
* Dark blond hair, shorter cropped in summer, for what this trivia is worth.
* Blue eyes.
* Nice smile.
* 173 cm tall (5' 8 &1/2").
* Inner leg measurement - varies depending who is taking it...M or F!
* Non smoking.
* Enjoys a nice glass of red or NZ Savignon Blanc!, but doesn't over indulge.
* One beautiful daughter, born 2010 and lovely son born 2013.
* Tertiary study: a brief stint at Law [university], followed by Teachers College.
* Lives in a unique relatively secluded rainforest hideaway, lower North Shore, 10 minutes by car from Sydney C.B.D.
PHILOSOPHY & VITAL CONSIDERATIONS:
Relationship Status:
* Married, after committing to a multicultural discovery of true love. Along the way relationships have formed, faltered & reformed√Čbut Don prefers a committed relationship to tumultuous uncertainty. [We have too much to achieve to be too romantically sidetracked.] Being a romantic dreamer, it can take time to find the right one, but is worth the patience√Čfingers crossed.
Comedians make the best lovers...
* They know all about timing!
* They have to know about timing. If they get it wrong they are boo-ed off stage!
* They will often give a woman a second change, because they know what its like to be rejected...All comedians have had to endure the 1000 deaths a minute act & survive to tell the next joke at another venue!
* No comedian would ever crack a joke when in bed with a woman. On the contrary they are more likely to think how lucky they BOTH are!
* One of the best kept secrets is that comedians and artists are usually very serious people...Serious about art and comedy & serious about life & relationships.
* But beware...if you ever betray a comedian...he or she may be distraught initially, but later is likely to become fodder for humour for many moons to come.
Favourite ways Don recommends to keep fit, taught & terrific:
* Windsurfing, snow skiing, tennis, cycling, snorkelling, swimming...& of course horizontal gymnastics!
Recent acquisitions:
* An electric assisted bike for the hills & balmy days, back pack for our baby, half a tank full of petrol for when the car is needed for gigs, nappies or a carton of milk√Čand its too wet to ride a bike.
Quip on Moet:
* The French invented it, then laid it to rest at Mururoa Atoll.
Quip on the relationship between the sexes:
* There's more than a vas deferens between feminists and chauvinistic males, but the placenta of it all should be total equality! (A quip from Don's second book, Phantom Bantam Antics.)
On women...or men, if you are a woman?
* There are as many views on women [or men] as there are changes in the weather. Here are a few of mine:
1. Somethings are best left in a void. A void can be so deep it has no meaning, no end, no understanding...in fact is unfathomable...& beyond all comprehension...
2. Some women [or men] are always searching & never realise until it is too late, that the grass is not greener on the other side of the hill. It is greenest in your own backyard, but just requires the right nutrients for growth.
3. Irresistible creatures of pleasure, love & tactile resourcefulness.
4. There will always be a better one, but true love & devotion are hard to find.
5. If you stop searching you often find what you are looking for.
6. The initial romantic contact & courtship is a memory which will linger forever.
7. Just when you think you understand her [or him] completely, be cautious...a whole new woman [or man] may materialise before your eyes!
8. ...I am sorry if I am being helpful...Is there really a difference between men & women?√ČI didn√ēt think so until I had a son and a daughter.
Views on Women:
* Irresistible sensual creatures of sharing & pleasure!
* If you are lucky enough to find the right one, treasure her like your favourite possession, but don't possess her!...& allow her the freedom to grow & express herself. (Pamper her with warmth & affection, then hopefully she'll want to express the same with you!...& won't be too possessive of your creativity!)
* If there is a battle for domination within the relationship it is probably the wrong relationship & unless you both thrive on discord its best to move on & find another partner.
* A sense of humour is a vital catalyst in the equation of love! It has a similar effect on the mind, as a nice relaxing massage has on the body...
Best opportunities to meet women:
* Whenever there is a football match.
View of football:
* Its the best form of birth control devised for Australians & New Zealanders!
On cricket:
* I'd rather chase a snail around the garden, but don't mind the sound of crickets in the background!
On height compatibility:
* Those that worry about height should be more worried about their I.Q.!
On age:
* Its a figment of your imagination unless you are a mathematician, an undertaker; bored or impotent!
* The only time to consider age is if you are unfortunate enough to feel old yourself! This can happen when a person asks another person his / her age. However it reveals more about the person asking the question than the person responding, because it can show that the person asking the question is insecure!
* The most common concept of age is chronological age. However there are many different types of age. These include chronological age, psychological age, intellectual age, creative age, humour age, spiritual age...to name just a few. Thus one can have a psychological age of 10, an intellectual age of 40, a creative age of 5, and still be regarded as being 25 [the number of birthdays actually celebrated.]
* Once one turns a chronological age of 21, one should become ageless, because chronological age is no longer relevant! Future birthdays should be a celebration of wisdom rather than chronological years!√Č& wisdom varies, person to person.
* In terms of relationships, compatibility is more important than chronological age. This should be based upon similarity of interests, goals, dreams, sexual compatibility, energy, humour...to name just a few of the ingredients! On the other hand opposites can be a challenge, or a major source of intrigue for some people...as growing together can become a fascinating bond, & hence should also be considered as part of the equation of life.
On Psychological Disposition:
* Every well balanced person should be able to ski & windsurf! (Perseverance is necessary to conquer any art...)......but of course this view is entirely personal & very subjective!!!.......It is now obvious I'm an optimist!
On living Down Under:
* If you have a superiority complex about living in the Northern Hemisphere, just turn the map of the World upside down!
Favourite Cuisines:
* Thai, Sichuan [spicy Chinese], Indonesian, Japanese, Indian, the occasional roast in winter, healthy rye bread√Čwith a seafood BBQ being a great way to relax!
On the environment:
* Respect it! - I am never flatulent in public!
On vehicles:
* All cars should be works of art, & treasured like a good drop of wine√Čbut for health, aesthetic & recreational purposes they can't eclipse the bicycle.
On the arts:
* Be part of it...but respect the arts by booking a professional to do the job.
On possessing firearms:
* Toy guns should be banned at childbirth!
His office:
* A swing bridge leads through the bush to the front door.
What is creativity anyway?
* Nothing is original in the world anymore so one of the Sex Pistols shot himself! (A quip from Don's second book, Phantom Bantam Antics.)
Articulate & Under-rated:
* Andrew Denton.
One insignificant event towards the end of 2001:
* Cutting his long locks & saving his hair for a future wig!
One of his philosophies / sayings which is still valid after 20 years:
* Life is but a trickling stream; its flow is governed by our dreams!!!
CREATIVITY...and PERFORMANCE HISTORY:
* Tied (designed & made) trout flies (for fly fishing) while at school, to earn spending money.
* Memories of childhood creativity also included converting an ancient washing machine [with ringer] into a potters wheel. Later he became adept at linocuts with displays in several exhibitions.
* Began touring as a Variety Artiste, sculpturing a monstrous chook-caravan, used as a mobile stage. Performed with bands, became a songwriter, developed a traditional One Man Band (about the only thing completely conventional about Dons career), playing symbols between the knees, kazoo, harmonica, electric guitar, electric bass (with right foot), bass drum (with left foot) & vocals. Some shows were geared towards family entertainment. Rudi Trudy Rooster & the Spunky Monkey were born, to become two popular childrens shows Don has performed extensively in shopping centres (Cairns to Perth to Adelaide), skifields & festivals in N.Z. & Australia.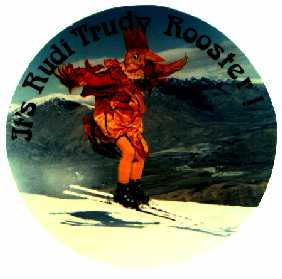 a favourite on skis, photographed at Coronet Peak, NZ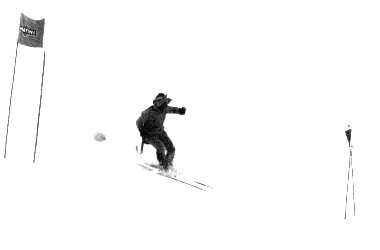 Spunky Monkey races at Mt Hutt, NZ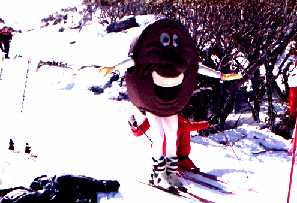 Ovilteenie opens a race at Guthega, Australia
(a chance to check out those legs, girls!)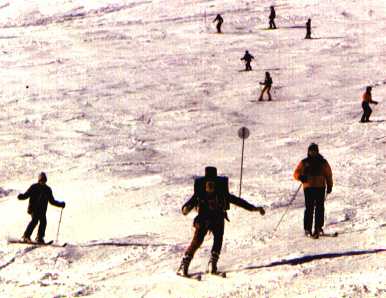 Pied Piper, disco-skiing at Turoa, NZ
the backpack-speaker box was Don's alternative to a Walkman!

Click below for full information on Rudi Trudy Rooster & the Spunky Monkey Cookery Show.

* Don's satirical show - Phantom Bantam Antics - became a major attraction attraction at campuses, beginning with University & Teachers College tours in N.Z., & quickly migrating across the Tasman, to perform at Universities & Advanced Colleges of Education in Australia. Tours included: The OZ'n'KIWI MIGRATION, NO PALTRY NATTER & the C.E.R. CONSUMMATION PILGRIMAGE. The Phantom Bantam (pictured here near Mt Cook, N.Z.) was his second vehicular sculpture and became his touring VW mobile stage.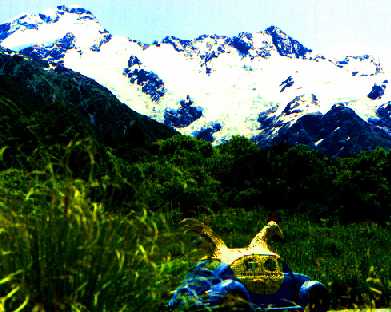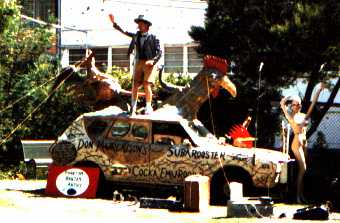 * The following year Don sculptured the SubaRooster (Subaru) which he hatched in Australia as a mobile stage / touring vehicle. After falling in & out of love with an Aussie girl, Don decided to remain in Australia, instead of touring the festivals of Europe. Thus began COMEDY SPECIALISTS.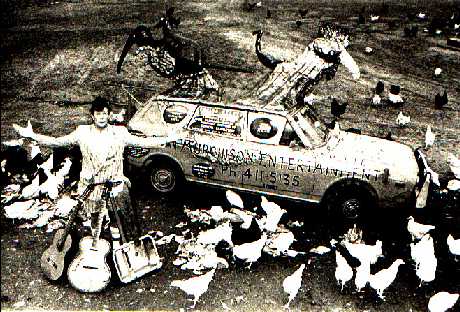 Please CLICK HERE if you would like a COMPLETE COMPANY PROFILE.
* Don has written 3 books:
Recitals from the Phantom Bantam. (poetry.)
Phantom Bantam Antics. (short stories, poetry, quips, songs, orchestrations, & theatrics.)
The Don Murchison Healthy Cookery Book with accompanying Poetry.
* Don's musical talent used to be displayed in his compositions & guitar playing. With his comical development he has turned to novelty instruments. He was accused of touring with everything BUT the Kitchen Sink...So of course it wasn't too long before this became part of his reportoir! Furthermore it is an Electric Kitchen Sink!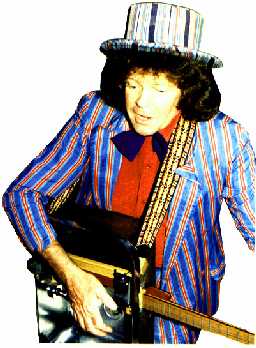 * The Musical Saw is Don's main serious musical instrument. He plays anything from funk to rock to jazz, select techno & even classical. Usually he is accompanied by a ghetto blaster, but one of his goals is a guest appearance with a live orchestra...In fact to compose a Symphony for the Musical Saw! Of course this is deadly serious. Don may be an artist and comedian, but this is no laughing matter, so if you happen to know the conductor of the London Philharmonic Orchestra, the General Manger of the Berlin Symphony Orchestra, or meet ??? on your travels, please let Don know!!! He'll elevate the status of the musical saw from Disneyland to the Opera houses of the World! In the meantime, if one can't play serious music, at least one can have a laugh about it: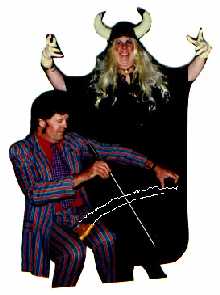 Here Don is seen accompanying a budding opera singer at a Corporate function in Sydney.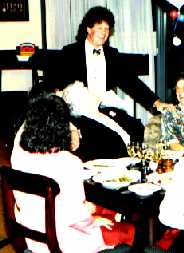 Don, masquerading as a Drunk Waiter, delivers an After-Dinner Speech at a function.
CLICK BELOW TO SEE DON IN OTHER CHARACTER ROLES:
DON IS ALSO A VISUAL ARTIST, SPECIALISING IN A VARIETY OF GLASS ART:
Below is one of his leadlight windows, as featured in his home, the Jungle Chalet:
Facial Landscape
a leadlight window, by Don Murchison.
Don also designs & creates a variety of glass mosaic works. You can commission Don to produce fabulous glass art works for your own home or office.
The large nature letterbox, with glass set in slabs of concrete,
that Don built for his home in Sydney.
WHEN DON TAKES A HOLIDAY FROM PERFORMING, WRITING, MUSIC, ANSWERING THE PHONE, DESIGNING PROPS & COSTUMES.......WHERE ARE YOU LIKELY TO FIND HIM?:
As you can see, Don doesn't travel light when he flies to N.Z. If he isn't carrying skis, its windsurfing gear!
If he is offered a gig in Queensland, there's always time for a quick visit to the Great Barrier Reef! - Perfect tranquillity scuba diving amongst the colourful tropical fish. (Sorry, this is not a very clear photo. We must replace it at a later date.)
Hiking & camping in the N.Z. Southern Alps is a majestic way of exhausting yourself, but worth it when you arrive at one of the world's finest glaciers.
CLICK HERE to return to the COMEDY SPECIALISTS HOME PAGE.

* * * * * * * * * * * * * *
EMAIL
don@comedyspecialists.com.au
Phone:
61 - 2 - 9906 2350. (9am - 6pm, Monday - Friday. Answer phone after hours.)
Mobile:
n/a. (en route to gigs.)
Facsimile:
No longer in service, superseded by email.
Created 2000 & last amended August 2019.

(>\kāĒě§ QÓ