SANTA COMEDY & DANCE ACT
with the Anorexic Santa
& Ms Mary Christmas!
Book a Comedian at an Affordable Price for your Christmas Party!
Our most popular Christmas Act for over 20 years!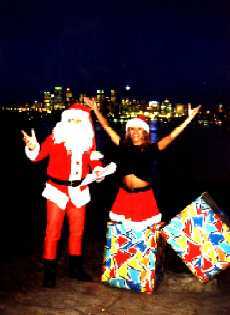 The Anorexic Santa, alias Comedian & Artiste Don Murchison, bursts into your Christmas party, with the traditional Ho...Ho...Ho... and 'We Wish You A Merry Christmas' (song). He walks around the tables & sits a few ladies from the audience upon his knee. The ensuing interactive repartee invariably leaves the audience in merriment & laughter. Santa then delivers a short witty speech, which is a customised witty script, with reference to information you have emailed us about the guests or the company. (NB. We email you a questionnaire form.) At the conclusion of the script, Santa invites the Managing Director (or person you nominate) to open a gigantic parcel. Out leaps Ms Mary Christmas, an attractive dancer, who performs an energetic dance routine! The act concludes with the Santas giving out comical / booby-prize presents to pre-selected guests of your choice.
To select the comical / booby-prize presents we email you a list of personality traits which match with people you would like to receive a gift. (There is a wide choice, from non-contentious to risque). Most presents are comical or ridiculous gifts, allowing for differing senses of humour. The presents are comparatively inexpensive. You are welcome to supply your own gists if you prefer. The price of the gifts is additional to the cost of the Act. Most companies tend to give presents to 6 - 15 guests. We do not give gifts to all the guests. Gifts are given to employees who have made gaffes or faux pas during the year, or have been caught in humorous or embarrassing situations [which they can laugh about in hindsight]. Gifts are also sometimes given to popular or helpful people as thanks or a reward, or even to someone who may be far from popular, due to a particular decision made during the year.
Every year some companies leave their bookings till the last minute & find we are either booked out, or they miss out on their choice of date, time or first choice for comical presents! We urge you to book & decide on gifts as early as possible to avoid disappointment.
The COST is: $1,600 + Comical Presents.
There is an 'early bird gets the worm' discount of $100 for bookings confirmed with a deposit prior to 1st October. .
The Winter Solstice Price, for gigs in June or July is $1,500 + Comical Presents.
BOOKINGS:
Ph. 9906 2350
within Sydney
or from outside Australia, dial
61 - 2 - 9906 2350.
* * * * * * * * * * * * * *
Anorexic Santa & Mary Christmas Comedy & Dance Act.
Don Murchison delivers a specially written script about the company & colleagues.
Mary Christmas [alias Rachel Scicluna] jumps out of the Christmas Parcel
to perform a dance routine [on the Svanen Tall Ship.]
The Santa Comedy & Dance Act concludes with hilarious presents
being presented to preselected guests.
* * * * * * * * * * * * * *
TERMS & CONDITIONS:
* COMEDY SPECIALISTS, DON MURCHISON, ARTISTES & SCRIPT WRITER RESERVE COPYRIGHT ON ALL PERFORMANCES. Any video of the performance is for private use & must not be reproduced, sold, or screened on TV, without the express conditional approval of Comedy Specialists, the performers & script writer.
* Comedy Specialists expect a courtesy request to video or film the act. In return for allowing filming, the client will supply a copy of the video to "Comedy Specialists" for their records, free of charge.
* Prices are current as per the date at the bottom of the relevant page & are always subject to the availability of specific performers & artists. Prices require confirmation for the following year.
* FOR BOOKINGS WE REQUIRE A NON-REFUNDABLE DEPOSIT, to confirm your booking, with the balance payable just prior to the gig. This can be done through internet banking or direct transfer to our nominated bank account. Bookings are not confirmed, nor are dates held, until we receive your deposit & it is cleared by the bank. Until we receive your deposit we reserve our right to confirm other bookings. We are strictly limited with the number of gigs we can perform on any day or night, & once we receive our quota, we do not accept further bookings. Thus to avoid disappointment, your deposit should be made without delay. The final payment is due just PRIOR to the performance, either by cash, bank cheque, internet banking or direct transfer to our nominated bank account. Personal cheques are accepted only if they are paid & received at least a week in advance of the booking to allow for clearance.
* Once confirmed there is no cancelation clause & deposits are non refundable.
* The cost includes Script Writing, Comedian & Dancer [if relevant for this act]. Other charges may apply [see below.]
* When you verbally [or via email] confirm your booking with us, we will email you a CONFIRMATION & QUESTIONNAIRE FORM. You complete & email this back to us. It becomes the brief to write the script.
* All performances are scripted & performed in jest, fun & good faith, without meaning to be vindictive. Comedy Specialists, the performers & script writer are not responsible if the performance happens to offend anyone. Care is taken to see the script & performance are in keeping with the information that is supplied as a guideline in the questionnaire. Your thorough completion of the questionnaire will assist us to write a memorable script.
* Where parking is charged, or difficult, arrangements must be made by the organiser / company / venue so this is not a cost or inconvenience to the performers.
* Travel expenses & other charges may apply. Please see below for details.
For bookings that are made during the Silly Season, or with short notice, we can not be sure that all Comical Gifts, from our list, will be available. We may need to supply gifts from our available stock, which would mean less choice.
* * * * * * * * * * * * * *
THE FOLLOWING ADDITIONAL CHARGES APPLY IF RELEVANT:
* Travelling expenses apply IF over half hour each way, i.e. one hour or more total estimated driving time.
* Relevant Harbour Bridge, Tunnel & Road Tolls are additional.
* Usual SHORT NOTICE CHARGES apply for script preparation -
..................Less than One Weeks Notice [5 working days, during the Silly Season] - additional $200.
..................If the script must be written during a weekend - extra $250.
* Sundays are an extra - $100.
* PUBLIC HOLIDAYS:
..................Christmas Day - Additional $600.
..................Evening of Christmas Eve - extra $400.
..................Most other Public Holidays or Public Holiday Weekends - $200.
* COMEDIAN [Santa] also DANCES with MD [or nominated person] - additional $100.
* BOOKINGS between 10pm - Midnight, & 8am -10am - additional $200.
* BOOKINGS commencing after 9 pm or before 8am - additional $500.
* Bookings affected by peak hour driving may incur an additional negotiated discretionary charge.
* The price allows for a half hour Starting Time Range. [This is to allow for potential delays in traffic or holdups.] If you want the show to start at a precise time, ie. a GUARANTEED STARTING TIME, this is an additional charge of $250. In this instance, if we are more than five minutes late starting due to our fault, this $250 charge is refunded.
* Because a female dancer is included, as part of the act [also applies to Cake Act, Surprise Retirement Parcel], occasionally, especially if short notice, we may not be able to book a dancer from our normal pool of talent. If this happens & we have to subcontract through an outside dance agency, the price may increase, in which case we will pass on any additional fees that apply.
* OUT OF TOWN GIGS - extra $50 - $750, depending on inconvenience & extent it restricts number of gigs performed on day / night.
* PARKING needs to be arranged in advance by the organiser. Loading docks or street parking is preferred.
* * * * * * * * * * * * * *
Please CLICK HERE to return to the COMEDY SPECIALISTS HOME PAGE.
COMEDY SPECIALISTS
The Jungle Chalet,
Valleyview Glen,
Cnr Valleyview Cres. & Innes Rd,
Greenwich,
SYDNEY, NSW, 2065.
AUSTRALIA.
EMAIL
fun@comedyspecialists.com.au
Phone:
61 - 2 - 9906 2350. (9am - 6pm, Monday - Friday. Answer phone after hours.)
Mobile:
n/a. (en route to gigs.)
Facsimile:
N/A: We now scan & email.
These prices apply for bookings during 2019. This page was last amended 23.8.2019.

We look forward to ensuring that your Christmas party is a very merry one!!!