CORPORATE IMPERSONATOR CHARACTERS
AFTER DINNER SPEECH
GUEST SPEAKER
Consider a Comedian,
as your Guest Speaker!
*** Don Murchison ***
(Chief Comedian & "Creative Director" of "Comedy Specialists".)
Are you organising a Conference, Convention, Corporate Function?
Are you requiring a reliable, professional, guest speaker?
We can include this act with any of our packages or cruises...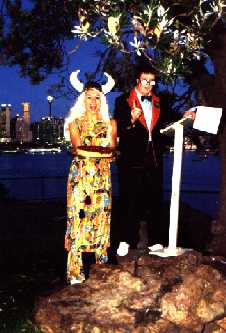 Corporate witty afterdinner impostor Speaker
alongside Comical Catering budding operatic waitress.
We fax you a questionnaire ~ Script Development Sheets. You fill these in, supplying us with information about your company, the occasion, and the audience. We write a special, individualised script, usually proposing a ludicrous scenario, or contentious new direction that the company "is to take." Often the "guest speaker" is introduced as an overseas director of the company, if the company has a subsidiary overseas. Alternatively he can be introduced as a consultant, or advisor. The script becomes increasingly unrealistic, and is eventually exposed as a hoax! At that stage a popular alternative is to complete the performance with a "Roast" of some or all of the delegates and colleagues present, with "one-liners" to include as many of the audience as possible.
Critics

"Certainly an attention grabber..." - Melbourne Herald.
"Don lives out every character he portrays to the ultimate..." - Wanganui Herald.
"Master of an extraordinary range of entertainment talents..." - Gold Coast Bulletin.
Cost varies ~ $1,250 - $3,000.
(Depending on research, scripting involved, & time / day.)
If for a private function, like a wedding or birthday, we will give a discount. Let us know your occasion, time & date & we will let you know the price.
* * * * * * * * * * * * * * * * * * * * * * * *
* WE REQUIRE PAYMENT UPON CONFIRMATION, FOR ALL OVERSEAS BOOKINGS. i.e. When we send you the CONFIRMATION & QUESTIONNAIRE FORM. We will give you a BANK ACCOUNT FOR YOU TO ARRANGE A TELEGRAPHIC TRANSFER or B.PAY, DIRECTLY FROM YOUR BANK TO OUR BANK. You fax us the bank receipt as evidence of your payment, & we're in action! Payment is non-refundable if you cancel. Bookings are not confirmed, & dates are not held, until payment is made.
* FOR LOCAL BOOKINGS WE REQUIRE A NON-REFUNDABLE DEPOSIT, to confirm your gig, with the balance payable just prior to the gig. This deposit helps protect our comedian & script writer against potential cancellation. Bookings are not confirmed & dates are not held, until your deposit is made. We reserve our right to confirm other bookings, giving priority to bookings confirmed with deposits. We are limited with the number of gigs we can perform in a day or night, & once we receive our quota, we do not accept further bookings. Thus to avoid disappointment, your deposit should be made without delay.
* * * * * * * * * * * * * * * * * * * * * * * *
Please CLICK HERE to return to the COMEDY SPECIALLY FOR CONFERENCES.
* * * * * * * * * * * * * *
Please CLICK HERE to return to the COMEDY SPECIALISTS HOME PAGE.
* * * * * * * * * * * * * *
COMEDY SPECIALISTS
The Jungle Chalet,
Valleyview Glen,
Cnr Valleyview Cres. & Innes Rd,
Greenwich,
SYDNEY, NSW, 2065.
AUSTRALIA.
EMAIL
fun@comedyspecialists.com.au
Phone:
61 - 2 - 9906 2350. (9am - 6pm, Monday - Friday. Answer phone after hours.)
Mobile:
n/a. (en route to gigs.)
Facsimile:
61 - 2 - 9439 2319. (24 hours, 365 days p.a.)
This page was last amended 11.12.2001.
Visitors to this page since records began on 8.5.2001.