SPUNKY MONKEY COOKERY SHOW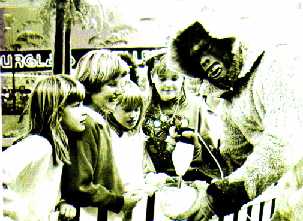 Spunky Monkey enthrals children at a South Australian shopping centre.
The Spunky Monkey (alias Don Murchison), is an enigmatic, wacky, humorous, unpredictable, largely slapstick chef who teaches kids to cook a variety of his jungle concoctions. During the half hour, fully costumed show, an egg disintegrates into confetti, an authentic looking mouse is pulled out of a Birthday Cake or Christmas Cake (which is iced with runny icing) & he uses a squirting calculator to measure the ingredients. Children sample his Jungle Pikelets, Chocolate Cake, Banana Shake...at end of show.
This has been a very popular show, on extensive performance tours throughout Australia & N.Z. - shopping centres, T.V. festivals, A & P shows, firm parties, birthdays...Now based in Sydney. Appeal: 5 -12 y.o's, families.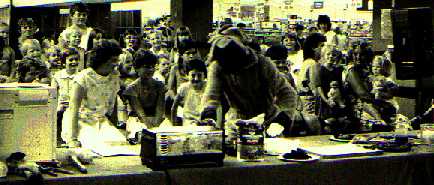 Spunky Monkey teaches children to cook his Jungle Pikelets at a Queensland shopping centre.
We also offer compered fun with games & activities, for up to one hour, to follow the show. (Full participation with ~ 3 legged race, musical chairs, novelty races, burst the balloon, cat & mouse, bop-drop, hide the balloon, musical relay, blind persons buff, castles, human barricade...+ many more.) Popular for all ages.
* * * * * * * * * * * * * *
TO CHECK ON PRICES AND PAYMENT DETAILS PLEASE CLICK BELOW. Most people will click on NORMAL COST. However if the show is for a small Childrens Birthday Party, at home or other non-commercial venue, please click on KIDDIES BIRTHDAY.
Please CLICK HERE for the Spunky Monkey Cookery Show NORMAL COST.
Please CLICK HERE if you are interested in booking the Spunky Monkey Cookery Show for a private KIDDIES BIRTHDAY.
* * * * * * * * * * * * * *
Please CLICK HERE to return to the COMEDY SPECIALISTS HOME PAGE.
COMEDY SPECIALISTS
The Jungle Chalet,
Valleyview Glen,
Cnr Valleyview Cres. & Innes Rd,
Greenwich,
SYDNEY, NSW, 2065.
AUSTRALIA.
EMAIL
fun@comedyspecialists.com.au
Phone:
61 - 2 - 9906 2350. (9am - 6pm, Monday - Friday. Answer phone after hours.)
Mobile:
n/a. (en route to gigs.)
Facsimile:
We have now discarded our fax in favour of email.
This page was created 1996, amended 1.11.04, & certified current on 25.10.2011.
Visitors since 3.11.2011:
Free Web Counter