RUDI TRUDY ROOSTER SHOW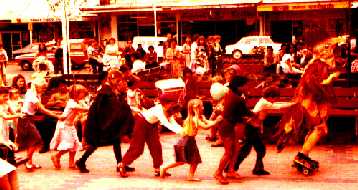 Rudi Trudy Rooster leads children on a 'Pied Piper' at a NZ shopping centre.
An entertaining, participatory half hour show, with the colourful, spontaneous, humorous, jovial Rudi Trudy Rooster (alias Don Murchison) - playing the guitar, teaching kids to crow & cluck, & leading them on a Pied Piper to conclude the show)....A popular attraction throughout N.Z. & Australia - festivals, Xmas parties shopping centres, A & P shows, T.V., skifields, birthdays. Audience appeal - 2 to 7 yrs, families.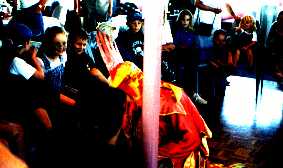 Rudi Trudy Rooster performs on the 'Aussie One' cruise boat, Sydney Harbour.
We also offer compered fun with games & activities, for up to one hour, to follow the show. (Full participation with ~ 3 legged race, musical chairs, novelty races, burst the balloon, cat & mouse, bop-drop, hide the balloon, musical relay, blind persons buff, castles, human barricade...+ many more.) Popular for all ages.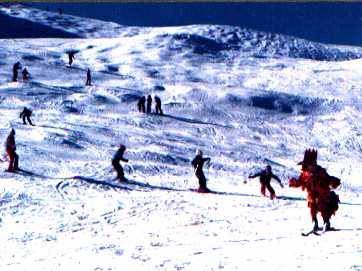 Rudi Trudy Rooster has his own 'ski school', & introduces character skiing to Coronet Peak, N.Z.
TO CHECK ON PRICES AND PAYMENT DETAILS PLEASE CLICK BELOW. Most people will click on NORMAL COST. However if the show is for a small Childrens Birthday Party, at home or other non-commercial venue, please click on KIDDIES BIRTHDAY.
Please CLICK HERE for the Rudi Trudy Rooster Show NORMAL COST.
Please CLICK HERE if you are interested in booking the Rudi Trudy Rooster Show for a private KIDDIES BIRTHDAY.
* * * * * * * * * * * * * *
Please CLICK HERE to return to the COMEDY SPECIALISTS HOME PAGE.
COMEDY SPECIALISTS
The Jungle Chalet,
Valleyview Glen,
Cnr Valleyview Cres. & Innes Rd,
Greenwich,
SYDNEY, NSW, 2065.
AUSTRALIA.
EMAIL
fun@comedyspecialists.com.au
Phone:
61 - 2 - 9906 2350. (9am - 6pm, Monday - Friday. Answer phone after hours.)
Mobile:
n/a. (en route to gigs.)
Facsimile:
We have now discarded our fax in favour of email.
This page was created 1996, amended 1.11.04, & certified current on 25.10.2011.
Visitors since 3.11.2011:
Free Counter