COMICAL CATERING
for the event you'll never forget...
Christmas Parties!...Functions!!...Extravaganzas!!!
Party time!...Fabulous Yuletide fun!
Professional Comedians masquerade
as Crazy Costumed Waiters & Waitresses,
(with costume changes every half hour)
to create a unique atmosphere of
fun, frivolity & hilarity...!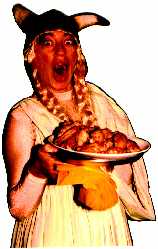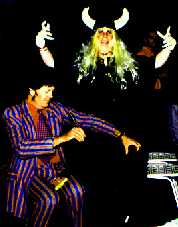 WE ORGANISE A COMPLETE PRODUCTION
WITH FOOD & ENTERTAINMENT:
Band, D.J., Witty Speech, Magician, "Cake Act" (dancer inside),
"New generation Anorexic Santa & padded Ms Mary Xmas Comedy & Dance
Act" with Comical Presents for Xmas Parties, Decorations, Photographer,
"This Is Your Life" Slide Show, Dancers, Video of event, Silent Movies,
Caricaturist, The "Madcaps", 'Chookmobile-"Limo" Act', P.A.
* * * * * *
*
* * * * * *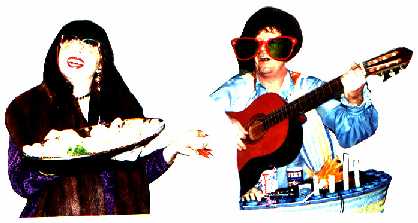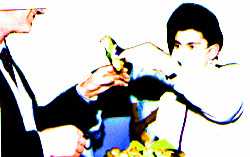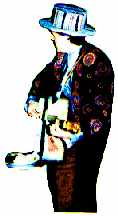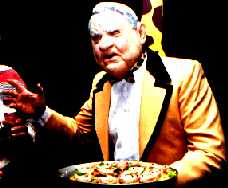 Even Boris used to get in on the act!
[but the mask is now perished from too much laughter!!!
But don't worry, we have lots of other characters available.
We just can't offer free holidays to Siberia to promote tourism to Russia!
* * * * * *
Your COMICAL CATERING function can be held on a CRUISE BOAT
on scenic SYDNEY HARBOUR
with fun, laughter & dancing: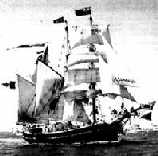 TO CHECK ON PRICES AND PAYMENT DETAILS PLEASE CLICK BELOW
* * * * * *
We guarantee to break the ice at even the stuffiest of Corporate Functions!
Please CLICK HERE to view further performance / cruise photos at the COMICAL CATERING PHOTO GALLERY.
* * * * * * * * * * * * * *
OTHER INFORMATION:
* COMEDY SPECIALISTS, DON MURCHISON, ARTISTES & SCRIPT WRITER RESERVE COPYRIGHT ON ALL PERFORMANCES. Any video of the performance is for private use & must not be reproduced, sold, or screened on TV, without the express conditional approval of Comedy Specialists, the performers & script writer.
* Comedy Specialists expect a courtesy request to video or film the act. In return for allowing filming, the client will supply a copy of the video to "Comedy Specialists" for their records, free of charge.
* Prices are current as per the date at the bottom of the relevant page & are always subject to the availability of specific performers & artists. Prices require confirmation for the following year.
* FOR BOOKINGS WE REQUIRE A NON-REFUNDABLE DEPOSIT, to confirm your booking, with the balance payable just prior to the gig. This can be done through internet banking or direct transfer to our nominated bank account. Bookings are not confirmed, nor are dates held, until we receive your deposit & it is cleared by the bank. Until we receive your deposit we reserve our right to confirm other bookings. We are strictly limited with the number of gigs we can perform on any day or night, & once we receive our quota, we do not accept further bookings. Thus to avoid disappointment, your deposit should be made without delay. The final payment is due just PRIOR to the performance, either by cash, bank cheque, internet banking or direct transfer to our nominated bank account. Personal cheques are accepted only if they are paid & received at least a week in advance of the booking to allow for clearance.
* Once confirmed there is no cancelation clause & deposits are non refundable.
* The cost includes Script Writing, Comedian & Dancer [if relevant for this act]. Other charges may apply [see below.]
* When you verbally [or via email] confirm your booking with us, we will email you a CONFIRMATION & QUESTIONNAIRE FORM. You complete & email this back to us. It becomes the brief to write the script.
* All performances are scripted & performed in jest, fun & good faith, without meaning to be vindictive. Comedy Specialists, the performers & script writer are not responsible if the performance happens to offend anyone. Care is taken to see the script & performance are in keeping with the information that is supplied as a guideline in the questionnaire. Your thorough completion of the questionnaire will assist us to write a memorable script.
* When we organise a Package with a Cruise Boat, Comical Catering, the Foolty Towers Impostors Act, or other subcontractors, the final payment is due at least 14 days PRIOR to the performance.
* Where parking is charged, or difficult, arrangements must be made by the organiser / company / venue so this is not a cost or inconvenience to the performers.
* Unfortunately past State Governments have introduced so many regulations & requirements that it has stiffled a lot of creativity in the food line & consequently drastically reduced the variety of food we can offer our clients. Now it is just not worth our while to be directly involved with food to maintain our previous Platinum, Gold, Silver & Bronze menus. So now we out-source food to other caterers. We prefer to concentrate on the Comedy than attend courses, pay for additional licencing, equipment, etc... Even though this is comedy in itself, because the only purpose it serves is to top up the State Government coffers! You the customer, regretfully loose with choice... but this is NOT our choice!!!

* Generally it is expected that performers will be fed & offered beverages during the function, unless there is no food available.

* A clean area must be provided for performers to change in. This must be under cover from the sun & NOT a toilet or area open to the public. A responsible person must ensure kids don't rush in when performers are getting changed. We don't want Santa sprung half dressed!

* Travel expenses apply for out of town gigs & also for cheaper packages, i.e. solo acts, if more than 1/2 hour each way.

* * * * * * * * * * * * * *
Please CLICK HERE to return to the COMEDY SPECIALISTS HOME PAGE.
COMEDY SPECIALISTS
The Jungle Chalet,
Valleyview Glen,
Cnr Valleyview Cres. & Innes Rd,
Greenwich,
SYDNEY, NSW, 2065.
AUSTRALIA.
EMAIL
fun@comedyspecialists.com.au
Phone:
61 - 2 - 9906 2350. (9am - 6pm, Monday - Friday. Answer phone after hours.)
Mobile:
n/a. (en route to gigs.)
Facsimile:
We have now discarded our fax & use email for all document transfers.
This page was last amended on 2.11.2011.
Visitors since 3.11.2011:
Free Hit Counter