COMEDYGRAMS
We bring fun & laughter
to Birthdays & special occasions
with Short Comedy Scripts & Speeches,
written for your celebration & delivered by a comedian,
dressed as a crazy costumed character.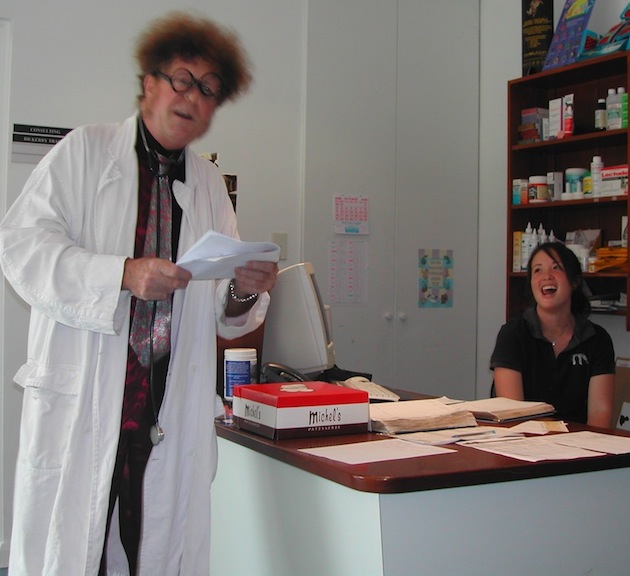 Our Comedygrams are short comedy routines which normally last 10 - 20 minutes and are performed by a professional comedian.
The Comedian bursts in to the party, usually dressed as a character - for example a Mad Psychiatrist, Fake Psychic, Judge, Baby-in-Nappies, Chook, Executive Monkey, etc. He delivers a short witty speech, which is specially written for each occasion. Usually there is ad-libbing with the audience, to make it more fun and spontaneous. The duration can vary depending on pause-laughter time and ad libbing. At the conclusion of his script he invites the audience to sing 'Happy Birthday', or if the occasion isn't a birthday, 'For He's / She's A Jolly Good Fellow / Person'. The recipient is presented with a copy of the script, and a short telegram wishing her / him a happy birthday (or other occasion), with best wishes / or love from the person who booked the act.
We email you a Questionnaire sheet, which you complete & email back to us. You can specify the preferred tone of the script - from outrageous to sedate. Sometimes clients want to send a person up, others to flatter, mildly embarrass, embarrass, or just generally humour. You can request scripts to be slightly suggestive, contain sexual innuendo, risque, or not at all risque & suitable for family entertainment. We steer clear of being vindictive or offensive and write & perform in jest, not meaning to offend. We use the information you provide as a basis to write the script, which is customised towards a particular person, situation or event. It generally takes three to six hours to prepare the comedy script, which is delivered in the form of a short witty speech, half way between standup and a prepared short after-dinner speech.
Our Comedygrams are extremely popular for birthdays and other special occasions ~ retirements, mother's day, father's day, hen's nights, etc. They can be performed at restaurants, offices, private homes or function centres, and are suitable for adults of all ages, including family audiences when children may be present.
We are the original Comedygram company in Australia and pride ourselves on supplying a quality, substantial & customised novelty message service. You may also see our comedians performing at Corporate functions. We enjoy the friendly intimate atmosphere of birthday celebrations, so we initiated Comedygrams as affordable short comedy acts. Since then, some other companies have presented themselves as "Comedygrams" , without necessarily the same depth of research and presentation that we built our reputation upon.
Our list of Costume Characters is diverse & include:
Mad Psychiatrist [our most popular character]
Fake Psychic (outrageous prediction of the future / popular for 18ths and 21sts.)
Drunk Waiter [includes short improvisation before the speech]
Male Cupid [Valentines Day & proposals]
Sportsman (windsurfer, snow skier, crazy golfer, cyclistÉ)
Baby in Nappies [baby showers, expectant parents.]
Anorexic Santa
Chook / Rooster
Executive Monkey (cheeky monkey face, hairy hands/feet, colourful pin-striped suit, tie. Ideal for executives, offices)
Priest
Pretend Tradesman / Serviceman
Outrageous Job Applicant
Ex-boyfriend [hen's nights]
Condom (full body costume / hens nights)
Courting Knight / Suitor [plays flamenco guitar]
Dagg. / Tramp (untrendy,clashing clothes)
Accident Victim (accident-prone person)
Rock Star (long hair, studded belt, guitar...) - suitable for teens.
Musical Saw Musician [plays the saw, accompanied by Mozart music, suitable for serious classical music lovers.]
Eccentric Musician - plays the Musical Saw to dramatic & impressionistic rock music.]
Doctor (diagnoses" patient)
Pirate
Bobby Policeman
Minstrel (plays kitchen sink, or guitar.)
Formal Butler-Orator (Red star tails, bow tie & cummerbund, black trousers, optional black bowler hat.)
Elvis (with face mask.)
Manuel (of Fawlty Towers fame.)
Skeleton (with face mask.)
Bunny / Rabbit.
Traditional One Man Band. (guitar, bass drum, cymbals knees, kazoo, harmonica, vocals.)
Clown Frock-Tray (hilarious mix of slapstick, crazy props & costume, visual delight & send-up, with flamenco guitar!)
Glutton (bursts open a tummy full of Minties / sweets)
Dog (hired costume.)
Queen (with face mask.)
Male Ballerina.
TO CHECK ON PRICES AND PAYMENT DETAILS PLEASE CLICK BELOW.

If you are from a company or this is for a Corporate function, or you are booking a show for a company, or a corporate function, please click CORPORATE COMEDYGRAMS. For all other bookings, i.e. by individuals, please click on PRIVATE COMEDYGRAMS.
The cost is cheaper when we are given more than four office days notice to prepare the script. Comedygrams are also dearer during the corporate Silly Season & public holidays.
* * * * * * * * * * * * * *
A Roast may be cheaper than a Comedygram (where an additional cost applies for each additional person.)...Alternatively you could also book a comedy act, specially written for several people.
Please CLICK HERE to find out about private / non-corporate ROASTS.
Please CLICK HERE to find out aboutCORPORATE ROASTS.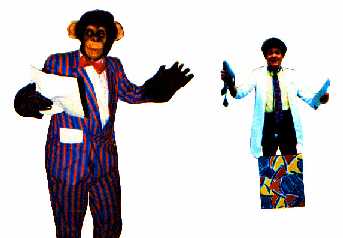 Please CLICK HERE to return to the COMEDY SPECIALISTS HOME PAGE.
COMEDY SPECIALISTS
The Jungle Chalet,
Valleyview Glen,
Cnr Valleyview Cres. & Innes Rd,
Greenwich,
SYDNEY, NSW, 2065.
AUSTRALIA.
EMAIL
fun@comedyspecialists.com.au
Phone:
61 - 2 - 9906 2350. (9am - 6pm, Monday - Friday. Answer phone after hours.)
Mobile:
n/a. (en route to gigs.)
Facsimile:
No longer available. We just use email.
This page was last amended 25.3.2013.
Visitors since 12.2.2013: