CONFERENCE ENTERTAINMENT:
.
For Event Management you need look no further!
.
Witty Speakers, Comedy Acts, Packages, Comedy Harbour Cruises
Comedy Bus Tours...Airport Pickups, Sightseeing with Comedy...
Customised Comedy Scripts...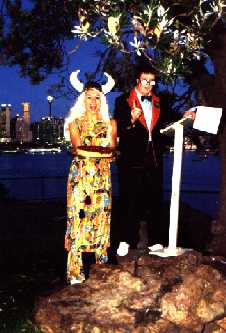 Corporate witty afterdinner impostor Speaker
alongside Comical Catering budding operatic waitress.
We specialise in customised performances - writing individualised comedy scripts for special occasions, to directly suit to requirements of our Corporate clients.
We also have a wide range of COMPLETE ENTERTAINMENT PACKAGES for Conferences and Christmas Parties.
Listed below are the Acts, Shows and Packages we have specially for you. If you have a unique idea, and we do not have it listed, please email us and we will come up with a concept specially for your conference!
FOR SPECIFIC INFORMATION ABOUT SHOWS AND PACKAGES WE HAVE TO OFFER, PLEASE CLICK BELOW:
* * * * * * * * * * * * * *
If you have seen Hypothetical on TV and enjoyed it...another option is to try our SUPPOSITION?
* * * * * * * * * * * * * *
Please CLICK HERE if you would like a COMPLETE COMPANY PROFILE.
Please CLICK HERE to return to the COMEDY SPECIALISTS HOME PAGE.
COMEDY SPECIALISTS
The Jungle Chalet,
Valleyview Glen,
Cnr Valleyview Cres. & Innes Rd,
Greenwich,
SYDNEY, NSW, 2065.
AUSTRALIA.
EMAIL
fun@comedyspecialists.com.au
Phone:
61 - 2 - 9906 2350. (9am - 6pm, Monday - Friday. Answer phone after hours.)
Mobile:
n/a. (en route to gigs.)
Facsimile:
61 - 2 - 9439 2319. (24 hours, 365 days p.a.)
Visitors to this page since monitored began, 30.5.2001.