SURPRISE
PARCEL ACTS
Give the retiring Company Director, Colleague
or your friend having a birthday,
...a special surprise present!
Inside is a comedian or a dancer!
Script written especially for the occasion.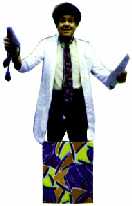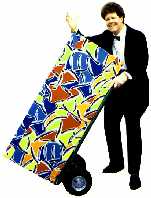 Thankyou for inquiring about our Surprise PARCEL ACTS. We fax or email you a Questionnaire sheet, which you complete and fax or email back to us. We use the information you provide as a basis to write the script, which is customised towards the particular person. It generally takes three to five hours to write the comedy script, which is then delivered in the form of a short witty speech, half way between standup and a short after dinner speech, by a professional comedian, dressed as a character of your choice. The recipient receives a copy of the script, and a short telegram wishing her / him a happy birthday or retirement, with best wishes / or love from the person who booked the act.
If the recipient is a woman, we usually have an actor who masquerades as a COURIER to deliver the parcel. The recipient then signs for the Parcel, opens it, and out jumps the Comedian, who delivers his specially prepared Comedy Script!
If the recipient is a man, the Comedian delivers his specially prepared Comedy Script (often dressed as a crazy costumed character like the Doctor or Mad Psychiatrist, pictured). He then presents the Parcel, which the recipient opens. Out jumps a glamourous dancer, who performs a dance routine (modern, jazz, tap or acrobatic), usually getting him up dancing during her performance!
The comedian is often dressed as a Doctor, Mad Psychiatrist, Crazy Golfer, Priest, Bobby Policeman...
TO CHECK ON PRICES AND PAYMENT DETAILS PLEASE CLICK BELOW. If you are from a company or booking a show for a company, or a corporate function, you will click CORPORATE PARCEL ACTS. All other bookings, i.e. by individuals, are regarded as PRIVATE PARCEL ACTS.
Please CLICK HERE if you are booking for a Private Function PRIVATE PARCEL ACT.
Please CLICK HERE if you are booking for a Corporate or Company Function CORPORATE PARCEL ACT.
Please CLICK HERE to return to the COMEDY SPECIALISTS HOME PAGE.
COMEDY SPECIALISTS
The Jungle Chalet,
Valleyview Glen,
Cnr Valleyview Cres. & Innes Rd,
Greenwich,
SYDNEY, NSW, 2065.
AUSTRALIA.
EMAIL
fun@comedyspecialists.com.au
Phone:
61 - 2 - 9906 2350. (9am - 6pm, Monday - Friday. Answer phone after hours.)
Mobile:
n/a. (en route to gigs.)
Facsimile:
61 - 2 - 9439 2319. (24 hours, 365 days p.a.)
This page was last amended 7.2.2005.