SPECIALLY SCRIPTED
PERFORMANCE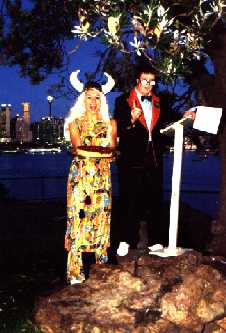 We will script a show especially for your occasion or function. The format varies considerably depending upon the occasion and your requirements.
We fax you a questionnaire ~ Script Development Sheets. You fill these in, supplying us with appropriate background information, the occasion, and a description of the audience. We write a special, individualised script and perform it as the character of your choice.
Critics

"Certainly an attention grabber..." - Melbourne Herald.
"Don lives out every character he portrays to the ultimate..." - Wanganui Herald.
"Master of an extraordinary range of entertainment talents..." - Gold Coast Bulletin.
Please follow the links to the format you are interested in. If we do not have an appropriate format we will create one specially for you!
* * * * * * * * * * * * * *
Please CLICK HERE to return to the COMEDY SPECIALISTS HOME PAGE.
* * * * * * * * * * * * * *
COMEDY SPECIALISTS
The Jungle Chalet,
Valleyview Glen,
Cnr Valleyview Cres. & Innes Rd,
Greenwich,
SYDNEY, NSW, 2065.
AUSTRALIA.
EMAIL
fun@comedyspecialists.com.au
Phone:
61 - 2 - 9906 2350. (9am - 6pm, Monday - Friday. Answer phone after hours.)
Mobile:
n/a. (en route to gigs.)
Facsimile:
61 - 2 - 9439 2319. (24 hours, 365 days p.a.)