CHRISTMAS PARTIES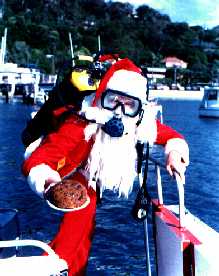 Sometimes the Silly Season can be very, very silly ~
but on this occasion we did manage to keep the Christmas Pudding dry!
Silly Season Specials
COMEDY SPECIALISTS offer a wide variety of comedy related services specially for Company Christmas Parties.
COMPLETE ENTERTAINMENT PACKAGES are very popular, with COMICAL CATERING, for Conferences, Christmas Parties and large events. These can be held at function centres, or at work, where we organise all entertainment to complement the catering! (Please click below for further information. Package prices listed are a guide & may need updating.)
COMEDY CRUISES and COMEDY BUS TOURS are other fun ways of celebrating. (Please click below for further information. These prices are subject to confirmation, as variables are constantly changing.)
You may just decide to book a comedian or Comedy Act for your Christmas Party. Our most popular Christmas Act for the past 16 years is the ANOREXIC SANTA & MARY CHRISTMAS COMEDY and DANCE ACT. (Please click below for further information.)
We don't confine our entertainment to the adult arena. If you are having a family occasion, look up FAMILY / COMPANY PICNIC, and you will find a selection of entertainment packages eminently suited to your needs. Santa of course is part of each package! With 116 packages available, there should be one to suit your audience & budget.
On the other hand you may be in the festive mood and enjoy a surprise prank, by having the Managing Director, or a Colleague picked up and taken to work in the CHOOKMOBILE, driven by the Anorexic SANTA himself! After this act, which includes a specially written script, everyone will be laughing into the New Year!...& laughter always raises productivity!!!
PLEASE CLICK ON THE ACT or PACKAGE YOU ARE INTERESTED IN:
* * * * * * * * * * * * * *
.
NEW FOR THIS YEAR...Through popular demand!...Have you forgotten to organise everything except Santa?...Look no further! We are right here!!!:
* * * * * * * * * * * * * *
Please CLICK HERE to discover the full range of services we can offer you & to BOOKMARK the COMEDY SPECIALISTS HOME PAGE.
COMEDY SPECIALISTS
The Jungle Chalet,
Valleyview Glen,
Cnr Valleyview Cres. & Innes Rd,
Greenwich,
SYDNEY, NSW, 2065.
AUSTRALIA.
EMAIL
fun@comedyspecialists.com.au
Phone:
61 - 2 - 9906 2350. (9am - 6pm, Monday - Friday. Answer phone after hours.)
Mobile:
n/a. (en route to gigs.)
Facsimile:
We have now discarded our fax in favour of email.
THIS PAGE WAS LAST AMENDED 1.11.11.
Visitors since 3.11.2011:
Web Counter