Welcome to
The Enchanted Night Garden.
the 19th, annual

JUNGLE CHALET ART & WATERGARDEN EVENT.
First three Saturday nights in September:
7th, 14th & 21st September, 2019.
Four sessions each night: 5.30 pm - 6.30 pm, 6.30 pm - 7.30 pm, 7.30 pm - 8.30 pm & 8.30 pm - 9.30 pm.
NB. the 2020 Enchanted Night Garden, as a public event, has been cancelled due to Covid19. This is very disappointing, as it was intended to be a spectacular 20th annual Jungle Chalet Art & Watergarden event. Don Murchison hopes the pandemic will be under control by September 2021, so there can be a special 21st celebration to return to normality, which for us is an amazing creative & inspiring outdoor artscape event in a rainforest setting within 10 km of the CBD!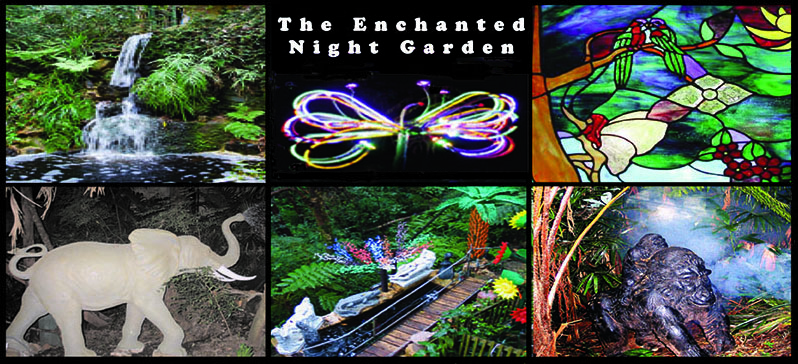 The Jungle Chalet is situated in a unique mini rainforest setting, bordering the Lane Cove Bushland Park. Don Murchison, has renovated his house in an original & fascinating artistic design, which blends in & complements the rainforest environment.
The Jungle Chalet is Don's creation - with sculptured waterfalls, streams & ponds to beautiful nature-inspired leadlight windows, a labyrinth in the driveway, glass-art letterbox...all on display. These & the various stages of the Watergarden Installations form an intricate & integral component of the unique Jungle Chalet Artscape. Don has personally placed every piece of sandstone & every pebble, to replicate nature in a miniature wonderland.
This event is part of the annual Lane Cove Festival. The Jungle Chalet's nature-inspired leadlight windows, all designed and created by Don Murchison, will be lit up, as will the replica crafted streams, ponds and waterfalls, with lighting effects.
The Enchanted Night Garden Event is your opportunity to enjoy the Jungle Chalet Watergarden Artscape, the tranquil romantic Sculptured Rainforest Walk, the Reservoir Illusion and outside Artscapes with the Spouting Elephant, the Gorilla in the Mist, and surprise sprung bridges. The Rainforest Walk features large individual marble sculptures commissioned from Chinese artists at Timbron & Haoxiang, to augment the outdoor Artscape. Due to their weight and delicacy these had to be flown into position by helicopter in time for the 2008 Exhibition.
The entire artscape is supplemented with colourful nature-inspired lighting, making it a visual spectacle for all ages to enjoy.
A major attraction is the fascinating Watergarden and hygromorphomatics, the term Don Murchison has penned to describe the artistic harvesting of rainwater, to create artificial streams, ponds and waterfalls, with real sound dynamics of moving water. Sensors operate the main waterfalls, so do not be surprised if a waterfall flourishes right before your very eyes! At night, special atmospherics & colourful nature-inspired lights add to the spectacle.
We encourage you to bring a small torch [but not a flood light] as lighting is subdued & atmospheric. People who are not sure footed need to be particularly careful, especially on the uneven sandstone steps. Children need to be accompanied & supervised at all times. You may even be able to shine your light on a possum or an owl, lurking in the rainforest environment.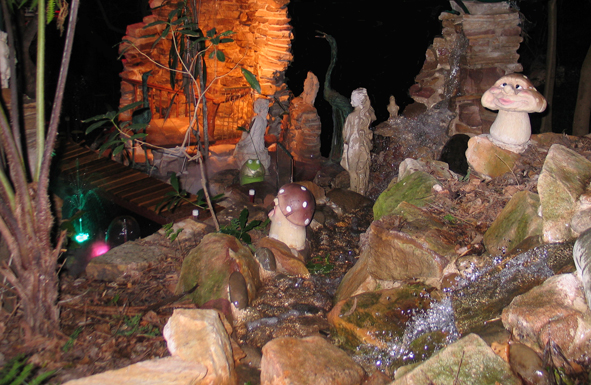 The Upper Watergarden is a fairy-land at night.
COST & PAYMENT DETAILS:
Adults: $12, High School Pupils: $8, Children under 12: $5, Toddlers: free. Family Pass: $25. NB. Eventbrite charge a small booking fee.
Tickets are limited to avoid overcrowding, so it is recommended you book, to ensure entry. There will be limited door sales if presales allow. Credit cards are accepted on line, but not for door sales where cash is necessary.
The first 5.30 pm - 6 pm time slot is suggested for elderly people or parents with very young children who wish to become acquainted with the pathways and steps in twilight. However most people will prefer to view the Enchanted Night Garden once it is dark, when the lighting is most effective, and this will be after 6 pm.
Tea and Coffee will be available for a small specified donation.
Please wear appropriate footwear for a rustic rainforest environment. High heels are definitely not recommended! There is no wheelchair access. A
small torch is recommended and essential for people with poor eyesight, as lighting is subdued and atmospheric. Children must be accompanied and supervised by parents or adult carers at all times.
.
This is an event which will delight the whole family:
There are plenty of attractions for children & adults alike:
* Sculptured streams, ponds and waterfalls
* The squirting Elephant.
* The Gorilla in the Mist.
* Speak to Me ~ voice tube.
* Waterfalls, streams & ponds.
* Waterwheel, mini whirl pool.
* Colourful flower lights, fog effects & atmospherics.
* Featured leadlight nature-inspired art windows, which will light up the Jungle Chalet.
* You may even spot a possum or two, frogs or a tawny frogmouth.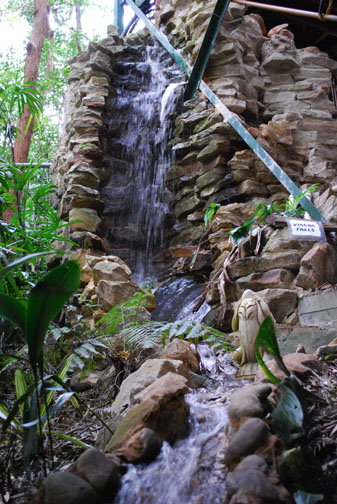 Don created the Viagra Falls from sandstone collected off building sites.
ADDRESS:
JUNGLE CHALET
37 Innes Rd,
Corner Innes Rd & Valley View Crescent,
GREENWICH,
SYDNEY, NSW, 2065.
AUSTRALIA.
EMAIL
jungle.chalet.art@comedyspecialists.com.au
Phone:
61 - 2 - 9906 2350. (9am - 6pm, Monday - Friday. Answer phone after hours.)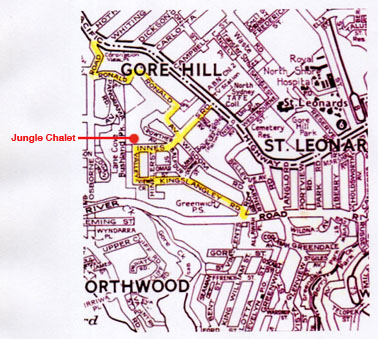 From the Pacific Highway, when driving away from the city towards Chatswood: Turn left into Innes Rd, drive to the bottom of the hill & the Jungle Chalet is on the corner of Valleyview Crescent & Innes Rd.
From the Pacific Highway, when driving towards the city: Turn right (at the lights after Epping Rd) into Osborne Rd; turn first left into Ronald Avenue & follow the bends, keeping left, until you get to Innes Rd; turn right & drive to the bottom of Innes Rd where the Jungle Chalet is on the corner with Valleyview Crescent.
From River Rd, opposite Greenwich Hospital, turn into St. Vincents St, then immediately left into Kingslangley Rd. Veer left at the first intersection & drive to the end of the street, where you turn right into Valleyview Crescent. The Jungle Chalet is at the end of the street, on the corner with Innes Rd.
This event is a regular feature in the annual Lane Cove Festival [previously Cammeraygal Festival] & has been an opportunity for local artists to also showcase their artworks in Don's unique rainforest Artscape environment.
This page was last amended 22.8.2019.